Looking For An Alternative To Cushion Grip®?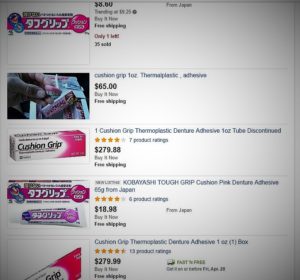 We know denture wearers really miss Cushion Grip® and that denture adhesives on the market today just don't perform as well.  Cushion Grip has been discontinued and a tube now costs hundreds of dollars.  Cushion Grip gave denture wearers multiple days of hold and more importantly gave secure hold in lieu of a reline.  For cost conscious seniors this was a real benefit.  Stabil-Dent® is a new and different way to stabilize a lower denture that can be a great alternative to traditional denture adhesives like Cushion Grip.
A Modern Approach To Your Lower Denture
We at Stabil-Dent take a different approach; instead of trying to hold an ill fitting, un-relined lower, we suggest a reline to get a proper fitting lower and then the application of Stabil-Dent.  Stabil-Dent solves the age old problem of an un-stabilzed lower denture with the application of two acrylic wings to the tongue side of your lower denture.   The tongue muscles then naturally put pressure on the top of the stabilizers, stabilizing your lower denture.  With the lower stabilized with our patented design, people will find they may not need denture adhesives or use very little of them giving them a long term cost savings.  More importantly they will enjoy the benefits of a stabilized lower denture:  improved speech, more comfort and the ability to eat almost anything.  Like Cushion Grip, Stabil-Dent does not weaken with time or hot liquids.  You enjoy a stabilized lower denture as long as you wear your lower.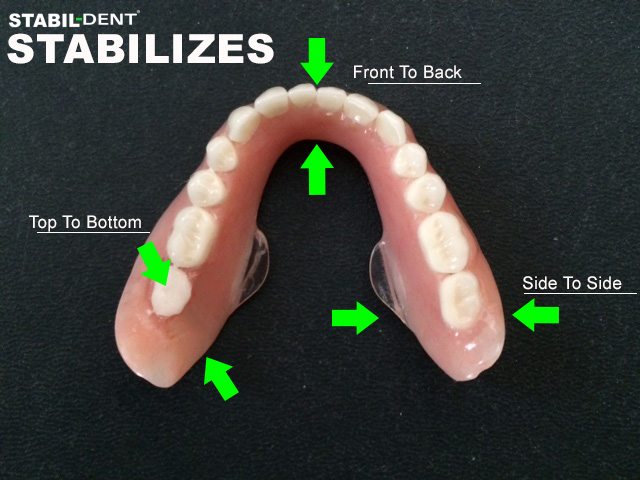 Coming Soon
How to know you are getting a laboratory reline.