Rethink What Denture
Adhesion Should Be
The Modern Way To Help Your Lower Denture
Enjoy The Benefits Of A Stabilized Lower Denture
What is Stabil-Dent®?
Stabil-Dent is an acrylic denture stabilizer that you attach to the tongue side of your lower denture. It works by sliding under the tongue muscles in the back of your mouth and in turn stabilizing your lower denture and keeping your lower denture in place.  Simple, effective and easy to apply to your lower denture.
Some users use Stabil-Dent with denture adhesives for a secondary stabilizing force.  Others have found they do not need to use denture adhesives or denture creams  after applying Stabil-Dent; making Stabil-Dent a great denture adhesive alternative or replacement for Cushion Grip®.  There is no surgery, invasive procedures or high cost.  Stop suffering and enjoy the benefits of a stabilized lower denture.
Our goal is satisfied customers, please note;  Stabil-Dent stabilizes the rear of your lower denture up and down, front to back and left to right.  Stabil-Dent will not correct a poorly made lower denture or one that has not been appropriately relined.
INCREASES COMFORT WHILE EATING

Enjoy all types of food.

IMPROVES SPEECH

With denture stabilized speech becomes more clear.
HELPS KEEP LOWER DENTURE IN PLACE

Stabilizes the rear of the denture.

DOES NOT WEAKEN

Not affected by hot liquids.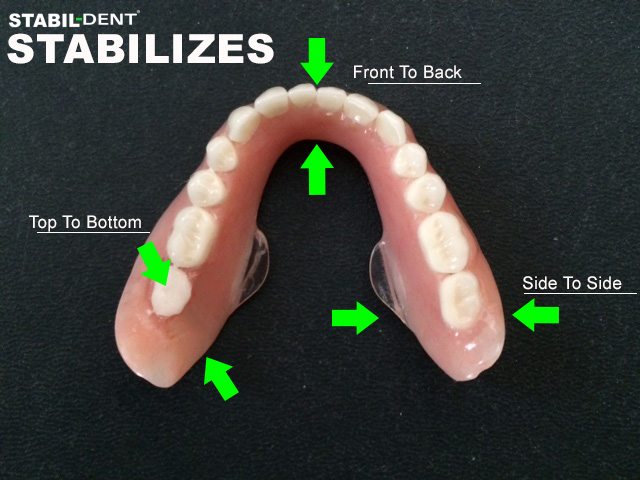 What People are Saying about Stabil-Dent!
I've had dentures for 40 years and know the problems that one faces with a lower denture. A friend of mine heard of this new breakthrough and had her lower denture done, so I called and made an appointment. I'm so pleased with the outcome, no denture adhesives and I can eat anything without the denture flipping up.

Meredith B., MT
When I first got my lower plate, I had lots of trouble keeping it in place. Every time I opened my mouth or tried to eat it would come up and about fall out of my mouth. Glacier Denture Center put stabilizers on my lower plate and I am now able to eat normally and open my mouth without the fear of losing my teeth.

Joe C., MT
I had always heard that having a lower denture was uncomfortable and hard to keep in place. However, with the stabilizer, my denture stays in place and makes it much more comfortable and easier to eat. Thank You!

Kay A., UT
I ordered the kit and I had my granddaughter put them on because my hands are not very steady. I can't believe how my lower denture stays in place now. I always had to put stickem in and now I don't have to. It does what they say. I would recommend this product.

Marjorie P., FL
I had two implants and they worked very well but food kept getting under my lower denture. I told Dr. Kandarian about my problem and he suggested Stabil-Dent stabilizers. After getting them put on my lower denture, I couldn't believe the difference they made. If you are in need of help for your loose lower denture I strongly recommend Stabil-Dent.


J Tweet Kalispell, MT