RETHINK WHAT LOWER DENTURE STABILIZATION SHOULD BE
A BRAND NEW CONCEPT IN LOWER DENTURE ADHESION
Stabil-Dent is unlike any lower denture adhesive/denture cream on the market today or anytime in the past for that matter.  It is a revolutionary, patented design utilizing a concept of lower denture stabilization by the way of acrylic stabilizers.  They work quite simply; the underside of your tongue creates pressures during speech and eating and it is these pressures that place the retaining forces on the top side of the stabilizers, thus holding the lower denture down and in place.  Stabil-Dent can be used by itself or in conjunction with a denture adhesive for a second stabilizing force keeping bottom dentures in place.  Stabil-Dent solves the age old problem of lower denture stabilization.
DENTURE ADHESIVES VS DENTURE ADHESION
Stabil-Dent Lower Denture Stabilizers are not designed to hold your lower denture in place with an adhesive bond.  They are designed to keep your lower denture stabilized while you are talking and/or eating.  They provide a stabilizing force at the rear of the lower denture; up and down, left to right and front to back.  To get the most from Stabil-Dent, your lower denture should be relined with a laboratory reline [not a chair side reline], so the denture fits adequately over as much of the mandibular [lower] arch [bone] as possible.
Who would have thought the pressures from the tongue that moved your loose lower denture around can become your best-friend, when properly utilized?  As recognition of their unique design, single attachment point and stabilization theory, Stabil-Dent Lower Denture Stabilizers are now fully patented in the United States; US 9,566,139 B2.
Used alone or with your favorite denture adhesive we are sure you will enjoy the comfort and improved performance of your lower denture once Stabil-Dent is applied.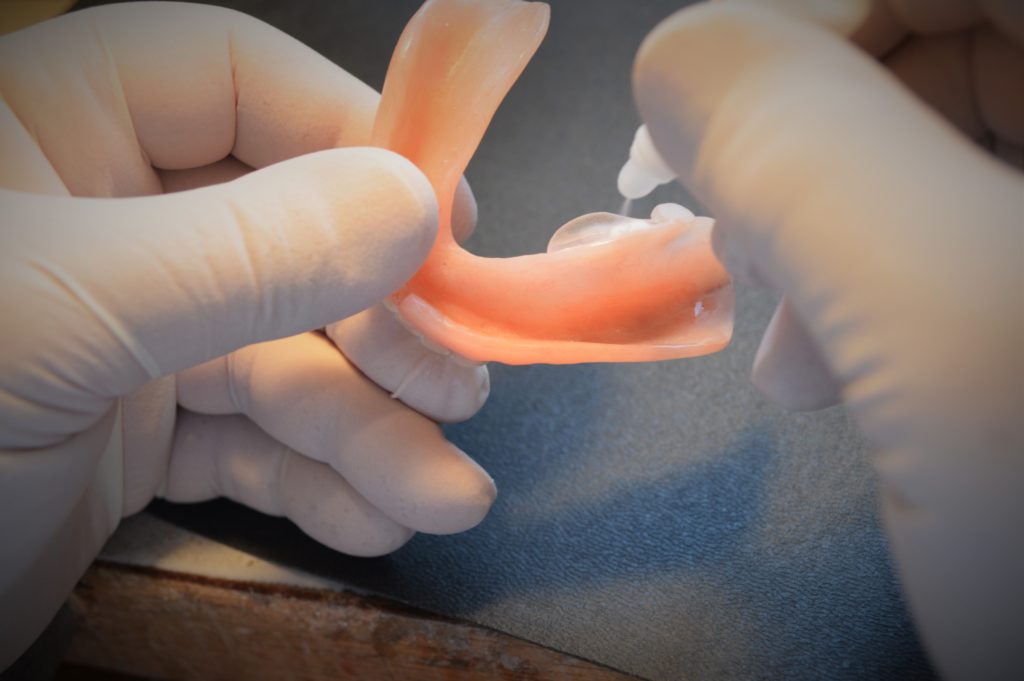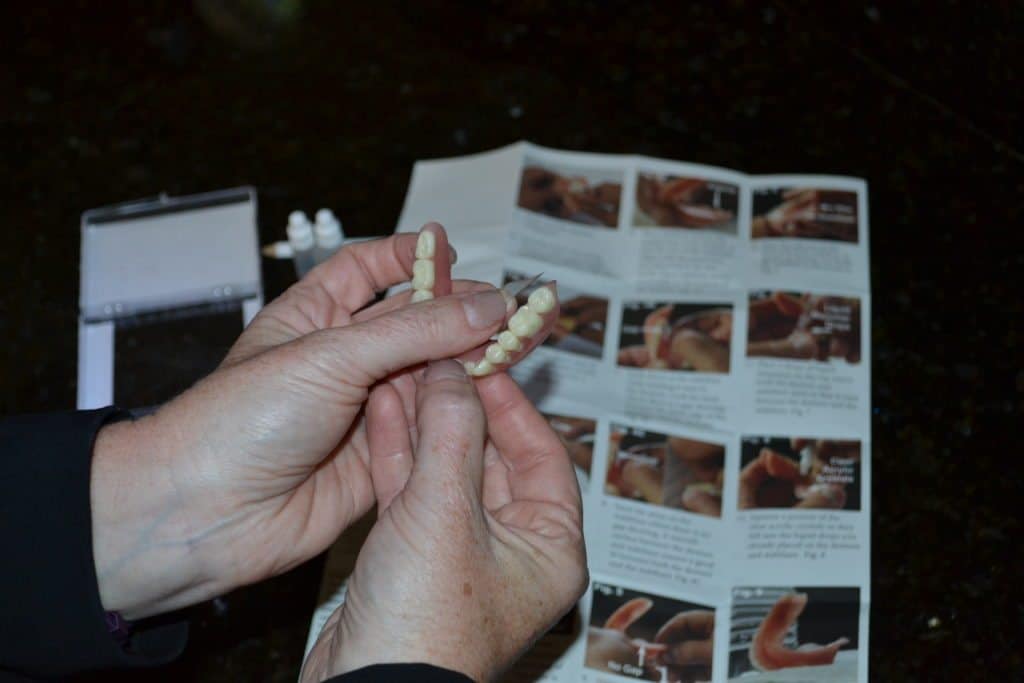 24 HOUR COMFORT AND STABILIZATION
Unlike denture adhesives, Stabil-Dent's stabilizing forces never change or weaken.  Adhesives will hold the bottom dentures for a period of time but will lose holding power for a number of reasons including drinking a hot beverage or the makeup of the individuals saliva.
Many people use denture adhesives with excellent fitting lower dentures simply as a means of security;  helping to hold the lower dentures in place while they are talking and/or eating.  Once again, that sense of security may not last because of the unpredictability of when the adhesive may lose its' holding power.  Enjoy Stabil-Dents benefits no matter how long you wear your lower denture.